Marvels of the Red Sea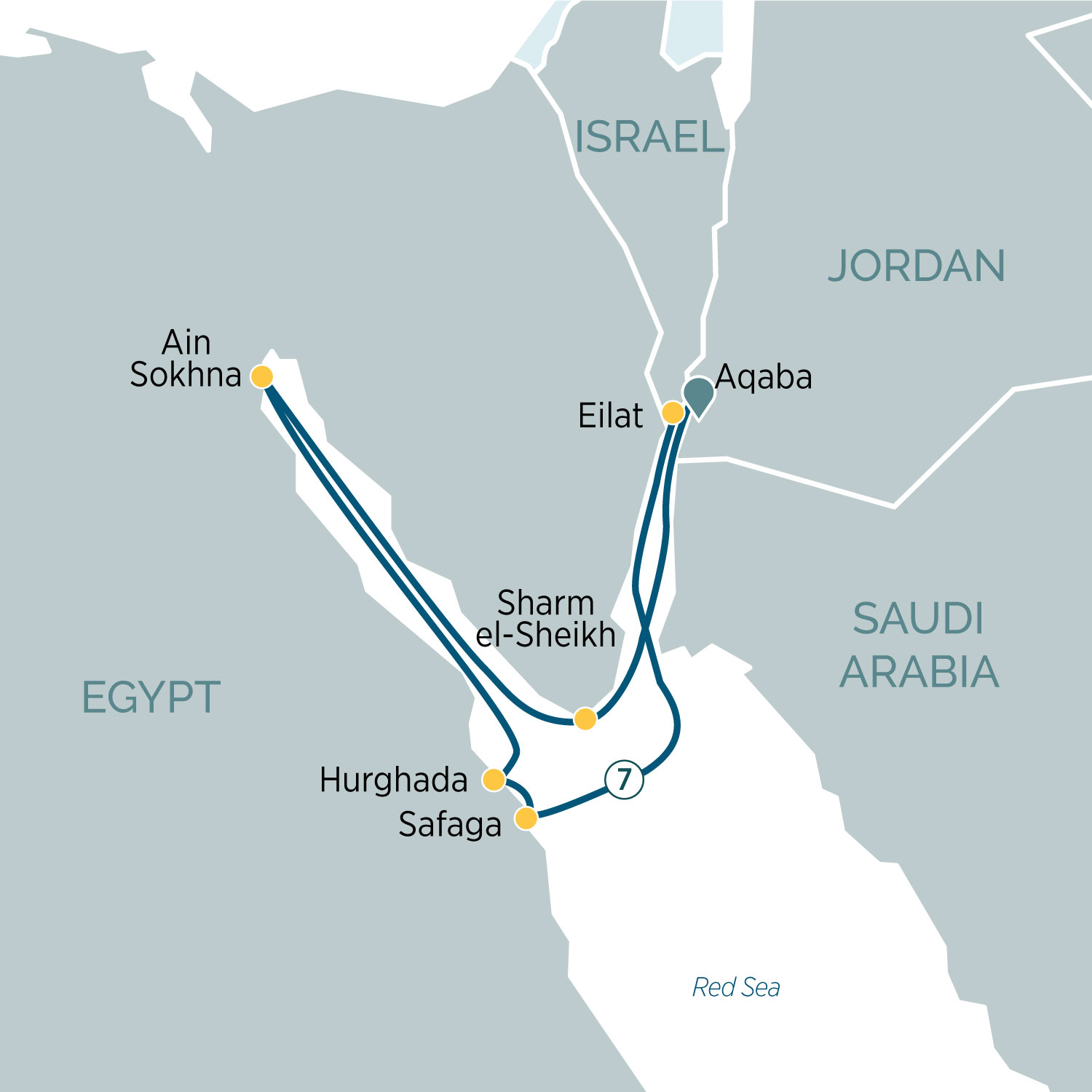 | | |
| --- | --- |
| Tour Name: | Marvels of the Red Sea |
| Tour Code: | E10P |
| Days: | 8 |
Day 1




Thu, 02 Feb

Aqaba, Jordan (D)

Upon your arrival in Aqaba, you'll meet your luxurious Emerald Cruises superyacht and embark on an unforgettable cruise of the Red Sea.

Please book your flight to arrive into Aqaba prior to 02:00 PM.
Day 2




Fri, 03 Feb

Sharm el-Sheikh, Egypt (B,L,D)

At the base of Egypt's Sinai Peninsula is the luxurious resort city of Sharm el-Sheikh, where traditional and modern Egypt comes together. Centuries-old mosques and bazaars nestle neatly next to elegant hotel resorts, and renowned diving sites entice adventurers.

Included Excursion
Naama Bay and glass-bottom boat trip

DiscoverMORE
Snorkelling at Ras Mohammad National Park (extra expense, must be pre-booked)
Day 3




Sat, 04 Feb

Ain Sokhna (B,L,D)

Lying on the western shore of the Red Sea's Gulf of Suez, Ain Sokhna is the nearest beach resort to the Egyptian capital Cairo and is the perfect base for visiting the Great Pyramids of Giza, one of the Seven Wonders of the Ancient World. Explore them today as part of your EmeraldPLUS programme and enjoy cruising the mighty Nile Rive on a Felucca, a traditional Egyptian wooden boat with a canvas sail.

EmeraldPLUS
The Great Pyramids of Giza and Felucca cruise on the Nile
Day 4




Sun, 05 Feb

Hurghada (B,L,D)

With year-round sunshine, Hurghada offers fabulous scenery both above and beneath the surface of the Red Sea. Well known for its world-class diving, it is the perfect place to relax and unwind.

Included Excursion
Beach break at a local resort

DiscoverMORE
Bedouin experience (extra expense)

DiscoverMORE
Two-day Luxor experience (extra expense)
Day 5




Mon, 06 Feb

Safaga (B,L,D)

Acquaint yourself with the stunning white sandy beaches of Safaga and take in the dramatic views over the Red Sea.

Included Excursion
Beach break at a local resort
Day 6




Tue, 07 Feb

Eilat (B,L,D)

Israel's "window on the Red Sea", Eilat is a resort town of pristine beaches and a vibrant nightlife. Gateway to the Negev desert, it offers moments of tranquillity in the serene surrounds of Eilat Mountains Nature Reserve.

Included Excursion
Guided tour of Timna Park & Eliat's underwater observatory.
Day 7




Wed, 08 Feb

Aqaba, Jordan (B,L,D)

As Jordan's only coastal port, the idyllic town of Aqaba has long been an important part of Jordanian life. Rich in history and marine biodiversity, it is blessed with vibrant coral reefs and a fascinating array of sunken vessels, making it one of the best diving spots in the Red Sea. As part of an included EmeraldPLUS excursion, get ready to be amazed by the UNESCO World Heritage-listed site of Petra, an ancient rock-carved Nabatean city, lost to the western world for almost 1000 years.

EmeraldPLUS
Guided tour of Petra with lunch included
Day 8




Thu, 09 Feb

Aqaba, Jordan (B)

Your spectacular yacht cruise comes to an end in Aqaba where you'll disembark your luxury superyacht and transfer to the airport, taking unforgettable memories with you.

The itinerary is a guide only and may be amended for operational reasons. As such Emerald Cruises cannot guarantee the cruise will operate unaltered from the itinerary stated above. Please refer to our terms and conditions for further information.