Andean Coastal Exploration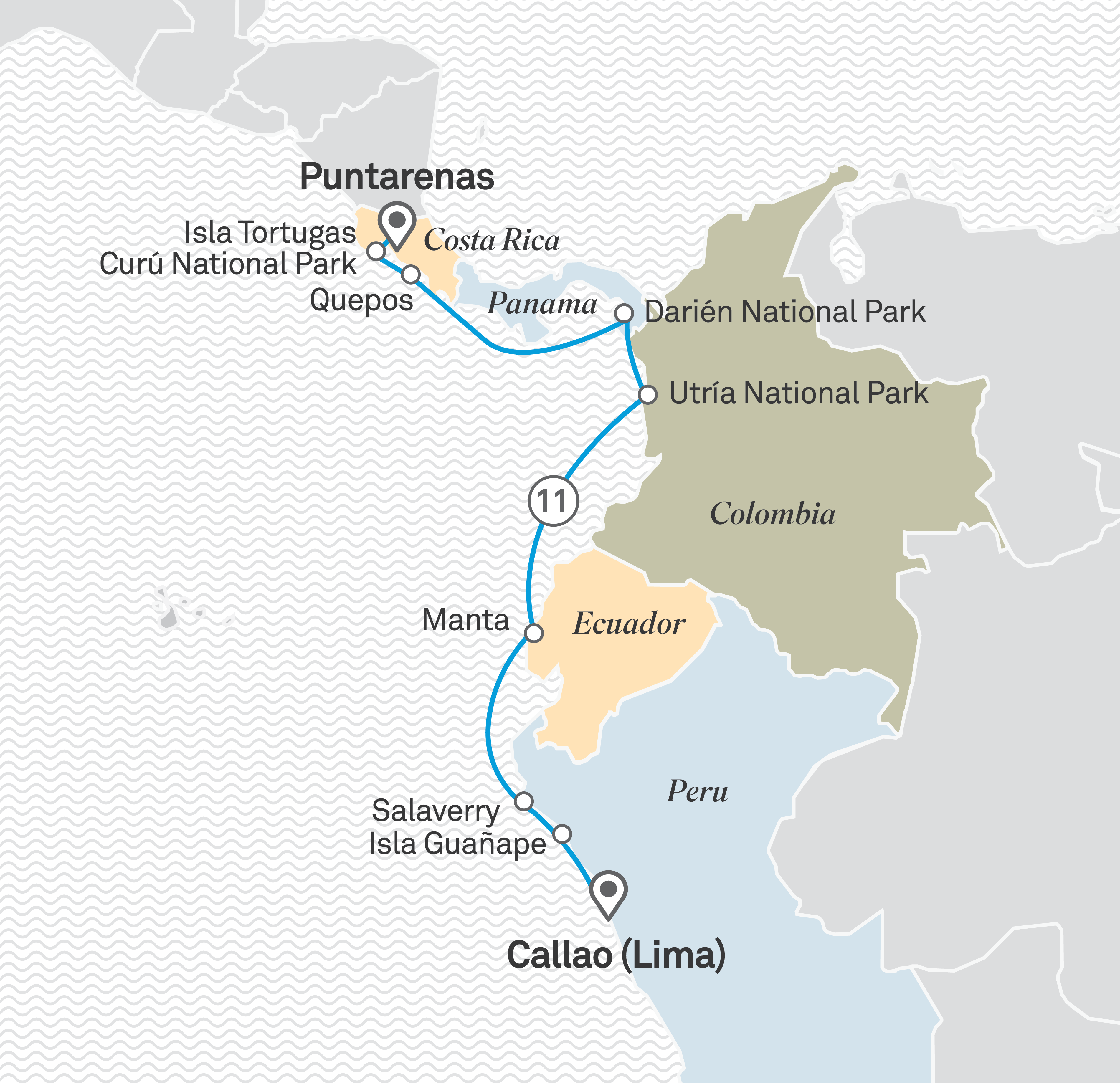 | | |
| --- | --- |
| Tour Name: | Andean Coastal Exploration |
| Tour Code: | 201C |
| Days: | 12 |
Day 1




Tue, 11 Oct

Puntarenas, Costa Rica (D)

Board Scenic Eclipse, your home away from home, in the early afternoon to explore beautiful Costa Rica. Cruise towards Islas Tortugas.
Day 2




Wed, 12 Oct

Curú National Park > Islas Tortugas (B,L,D)

Cruise down the coast to Curú National Park and visit the Curú Wildlife Refuge. Be introduced to a variety of wildlife that thrives here, including up to 200 species of birds, capuchin and howler monkeys, as well as sloths and anteaters. Then unearth the tropical paradise of Isla Tortugas. This remote and pristine beachside community will draw you in with its clear waters and sun-kissed shores.
Day 3




Thu, 13 Oct

Quepos (B,L,D)

Whether you're a wildlife lover, thrill seeker or simply looking to relax on the shore of azure waters, Quepos has something to offer everyone. Surrounded by the rainforest of Manuel Antonio National Park, Quepos is home to beaches of brilliant white sands, tropical plants, coral reefs and a plethora of manual and bird species.

Freechoice: Take a boat ride through the mangroves and learn about this a unique and fragile ecosystem, or explore Manuel Antonio National Park, walking through the forest on your way to the local beach.
Day 4




Fri, 14 Oct

At Sea (B,L,D)

Enjoy a relaxed day at sea on board Scenic Eclipse. There is ample time to rejuvenate. Why not choose a class in one of the fitness spaces or try one of the therapy lounges in Senses Spa.
Day 5




Sat, 15 Oct

Darién National Park, Panama (B,L,D)

Explore World Heritage-listed Darién National Park one of the most important heritage sites in Central America. A natural bridge spanning the two Americas, it houses a myriad of habitats, ranging from rocky coastlines to sandy beaches and mangroves. A wealth of wildlife awaits such as the endangered night monkey, spotted paca and Guatemalan black howler. It's no wonder Darién National Park remains one of the few examples in the world of a protected area co-inhabited by humans. Journey into the lives of the Embera Indian Tribe and learn of their traditions and lifestyle during this cultural encounter.

Discovery: Kayak or stand up paddleboard along the coast of the Darién Jungle.
Day 6




Sun, 16 Oct

Utría National Park, Colombia (B,L,D)

Sitting on Colombia's Pacific coast is the lush tract of Utría National Park, considered a national landmark for the country. From coral reefs and mangroves in the marine realm, to tropical rainforest and rocky beaches where sea turtles come to lay their eggs, and warm waters where humpback whale thrive, few places in the world encompass the diversity of Utría's ecosystems. Today, choose one of our Scenic Freechoice activities or join a more active Scenic Discovery excursion.

Freechoice: Choose to experience a mangrove swamp on walkways that wind through this fragile ecosystem, or visit Playa Blanca and take the opportunity to explore one of the white beaches of the Colombian Pacific coast at your leisure.

Discovery: Kayak the calm waters of Utría and witness the great wealth of bird and other animal life in this rich habitat.
Day 7




Mon, 17 Oct

At Sea (B,L,D)

Take a day to rejuvenate on board after your exciting on shore excursions. Try a game of bridge or canasta in the Observatory Lounge or tempt your palate with a wine tasting.
Day 8




Tue, 18 Oct

Manta, Ecuador (B,L,D)

Located on Ecuador's central Pacific coast, Manta, once a trading hub between the Incas and the Mayas, is now famous for the export of Panama hats and tuna fishing.

Freechoice: Savour the tasty gastronomic offerings of the region and checkout some lively cultural highlights as you explore the charm of a local Ecuadorian dance performance and watch the iconic work of local artisans of the town of Montecristi. Alternatively, learn about the Manabita culture and how local cultural practices had evolved to shape the lively and vibrant people we experience nowadays around Manta.
Day 9




Wed, 19 Oct

At Sea (B,L,D)

Today relax on board. With so many choices, you will be surprised how quickly the time passes.
Day 10




Thu, 20 Oct

Salaverry, Peru (B,L,D)

Salaverry is the gateway to the cultural capital of Peru, picturesque Trujillo – home to colonial mansions and magical ruins. Explore the amazing ruins and archaeological treasures of the Mochica and Chimu civilisations. Later this afternoon, cruise down to the chain of islands that are home to hundreds of seabird species.

Freechoice: Discover the sacred adobe temples, the Pyramid of the Sun and Moon or explore the amazing World Heritage-listed site of Chan Chan.

Enrich
Be amazed with the grace and elegance of the Peruvian Paso horse in a charming display of these beautiful and authentic animals.
Day 11




Fri, 21 Oct

Isla Guañape (B,L,D)

Lying off the Pacific Ocean coast of Peru, this small chain of four islands is a wildlife refuge protected by Peru's National Reserve System of Guano Islands, Isles and Capes. Isla Guañape was once harvested for it's the rich fertilising properties of guano found here. You'll get the chance to witness the abundant native wildlife including inquisitive southern sea lions and mischievous Humboldt penguins. Catch a glimpse at Guanay cormorant and blue-footed boobies as they flock.
Day 12




Sat, 22 Oct

Callao (Lima) (B)

Your cruise ends this morning in Callao (Lima) as you farewell your crew. Disembark after breakfast and transfer to the airport for your flight homeward.

Helicopter and submarine experiences may not be available at every location. These experiences are at additional cost, subject to regulatory approval, availability, weight restrictions, medical approval and weather and ice conditions.

The itinerary is a guide only and may be amended for operational reasons. As such Scenic cannot guarantee the cruise will operate unaltered from the itinerary stated above. Please refer to our terms and conditions for further information.