Danube Delta Discovery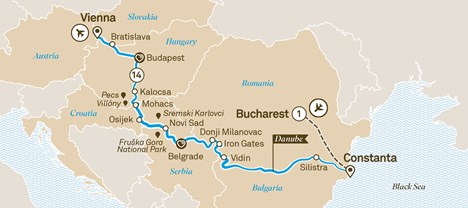 | | |
| --- | --- |
| Tour Name: | Danube Delta Discovery |
| Tour Code: | VIBU |
| Days: | 16 |
Day 1

Thu, 12 Oct

Bucharest (D)

Welcome to Bucharest where you will enjoy an overnight stay.
Day 2

Fri, 13 Oct

Bucharest > Constanta (B,L,D)

Today transfer from Bucharest to Constanta where our friendly crew await your arrival and welcome you on board your luxurious Scenic Space-Ship.
Day 3

Sat, 14 Oct

Constanta (B,L,D)

This morning your local guide will take you on an exploration of the sea side city of Constanta. Sitting on the Black Sea Coast, Constanta is a historic city with a long and fascinating history and you have the chance to learn about its historical monuments and ancient ruins.

After lunch, your Scenic Space-Ship will set sail towards the Bulgarian town of Silistra.
Day 4

Sun, 15 Oct

Silistra (B,L,D)

Freechoice: Discover Silistra Fort during an active walking tour, or journey to the nearby local village where you'll visit the local school.
Day 5

Mon, 16 Oct

Silistra > Vidin (B,L,D)

As you cruise the mighty Danube enjoy the scenery as you sail towards Vidin.
Day 6

Tue, 17 Oct

Vidin (B,L,D)

Freechoice: Tour Vidin on foot, or opt for a hike to the Belogradchik Fortress. Alternatively, visit a local winery for a tasting, or join an Ancestry of the Kitchen excursion where you will join a local and learn to make traditional Banica, a delicious cheese filled Filo pastry pie.
Day 7

Wed, 18 Oct

Iron Gates > Donji Milanovac (B,L,D)

Admire the spectacular scenery as you cruise the Iron Gates, with its incredible high cliffs and narrow gorges the Iron Gates also forms the natural border between Romania and Serbia.

Freechoice: Enjoy spectacular views over the Danube on a guided tour of Golubac Fortress, or visit Lepenski Vir Archaeological site and museum.
Day 8

Thu, 19 Oct

Belgrade (B,L,D)

Enjoy an in depth city tour including Tito's Memorial, or join an orientation tour of the city. Alternatively, take a cycling tour along the river, or see another side of Belgrade as you kayak on the Danube. Alternatively, join a local charitable organisation that is dedicated to educating the Roma community as they raise awareness and help the children from the local population.

Enrich
Visit the largest orthodox temple in the Balkans, St. Sava and enjoy a choir performance in the Temple Crypt.
Day 9

Fri, 20 Oct

Novi Sad (B,L,D)

Freechoice: Join a local guide for a city tour, or journey to the nearby town of Sremski Karlovci. Alternatively, visit Fruška Gora National Park, or take an active hike to Petrovaradin Fortress.
Day 10

Sat, 21 Oct

Osijek (B,L,D)

Freechoice: Be guided through the town of Osijek on foot, bike or boat. Later, join a local family for a hearty home-cooked meal and the chance to discover what everyday life is really like in Croatia.
Day 11

Sun, 22 Oct

Mohacs (B,L,D)

Freechoice: Discover Pécs, a city of art and history, or explore the village of Villány and learn about everyday life in Hungary, while sampling some of the fine local wines. Alternatively, tour Zsolnay Porcelain Museum.
Day 12

Mon, 23 Oct

Kalocsa (B,L,D)

Witness a traditional Puszta horse show. Be greeted by the horsemen of the Puszta region where this type of activity has been practised for centuries.
Day 13

Tue, 24 Oct

Budapest (B,L,D)

Freechoice: Join a guided tour through one of the most beautiful cities in Europe, or if you are feeling active, take a walking tour of Buda. Alternatively, discover the Jewish history of Budapest with a local guide.

Enrich
Immerse yourself in Budapest's imperial past by attending an exclusive private classical music concert at the majestic Gödöllõ Royal Palace.
Day 14

Wed, 25 Oct

Bratislava (B,L,D)

Freechoice: Explore Bratislava with a local guide during a walking tour, or journey behind the Iron Curtain to discover Bratislava's communist-era history during a guided tour. Alternatively, if you're feeling more active join a guided cycling excursion.
Day 15

Thu, 26 Oct

Vienna (B,L,D)

Freechoice: Tour the city of Vienna, or visit Schönbrunn Palace. Alternatively, take in the sights as we cycle to Danube Island on a guided bicycle tour, or learn about Vienna's popular wine region whilst sampling some of its acclaimed sparkling wine.
Day 16

Fri, 27 Oct

Vienna (B)

Depart today after breakfast, taking wonderful memories with you.

This itinerary is a guide only and may be amended for operational reasons such as high and low water. As such, the cruise may operate altered from that stated above. Please refer to our terms and conditions.