Hidden Charms of the Caribbean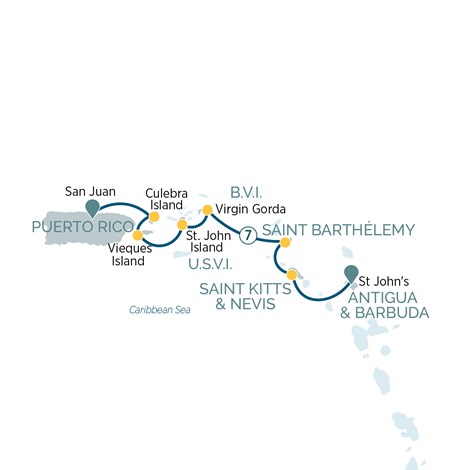 | | |
| --- | --- |
| Tour Name: | Hidden Charms of the Caribbean |
| Tour Code: | E04J |
| Days: | 8 |
Day 1

Sat, 30 Dec

St. John's, Antigua, Antigua and Barbuda (D)

Your luxurious yacht cruise begins in St. John's, where you'll be transferred to your Emerald Cruises luxury yacht and embark on your discovery of the Virgin Islands and Puerto Rico.

Please book your flight to arrive into St John's prior to 03:00 PM.
Day 2

Sun, 31 Dec

Friars Beach, Saint Kitts and Nevis (B,L,D)

No trip to St. Kitts is complete without a visit to South Friars Bay, one of the most popular of all the island's beaches. Golden sand, shore reefs and the quiet turquoise waters make for breathtaking scenery that surrounds this St. Kitts beach. The view of Friars Bay from the top of the Southeast Peninsula Road on Sir Timothy's Hill is remarkable. From here, you will have a magnificent view of the Friars Bay Salt Pond and the St. Kitts beaches at North Friars Bay and South Friars Bay.

Included Excursion
The best of St. Kitts

DiscoverMORE
St. Kitts scenic railway tour (extra expense, must be pre-booked)
Day 3

Mon, 01 Jan

Gustavia, Saint Barthélemy (B,L,D)

Named for Sweden's King Gustav III, Gustavia is the charming capital and main seaport of the island of Saint Barthélemy, also known as St. Barth. It is often considered to be one of the most beautiful islands in the Caribbean and a tropical paradise with French flair. You will enjoy the beauty of its large idyllic beaches, plus the charm and refinement of its old wooden houses.

DiscoverMORE
Snorkelling in St. Barths (extra expense)

DiscoverMORE
Discover St. Barth (extra expense)
Day 4

Tue, 02 Jan

Virgin Gorda, British Virgin Islands (B,L,D)

Virgin Gorda is the third largest and second-most populous of the British Virgin Islands. Somehow uncrowded, Gorda Sound itself has recently blossomed into a busy place surrounded with resorts and vacation villas. Virgin Gorda is a beautiful island; an ideal jumping off point for an in-depth discovery of the Virgin Islands.

EmeraldPLUS
BBQ Lunch on fully equipped beach with live band

DiscoverMORE
The Baths discovery (extra expense)

DiscoverMORE
Snorkelling experience (extra expense)
Day 5

Wed, 03 Jan

St. John, US Virgin Islands (B,L,D)

Cruz Bay is the economic and social hub of St. John, with a busy inter-island ferry dock connecting it to other islands in the region. The busy bay is dotted with restaurants and shops, and beautiful Caribbean architecture can be seen in Mongoose Junction as one takes a gentle stroll through town. Cruz Bay is also known as the 'Love City', a moniker earned because of its eclectic and quiet 'take it easy' vibe.

Included Excursion
St. John Island tour with visit to the Annaberg Plantation ruins

EmeraldACTIVE
National Park Hike to Salomon Beach

DiscoverMORE
Snorkelling at Trunk Bay (extra expense)

DiscoverMORE
National Park Kayak Adventure (extra expense)
Day 6

Thu, 04 Jan

Vieques Island, Puerto Rico (B,L,D)

The quaint coastal town of Esperanza has a lovely waterfront with gorgeous beaches and a bustling strip of restaurants, bars, and guesthouses. One can walk along the boulevard and visit the various establishments for a glimpse into the local culture and activities on offer. Locals enjoy spending the afternoon at Sun Bay, the main urban beach located in the town's eastern outskirts.

DiscoverMORE
Discover Vieques Island (extra expense)

DiscoverMORE
Snorkelling tour (extra expense)

DiscoverMORE
Kayaking in the Bioluminescent Bay (extra expense)
Day 7

Fri, 05 Jan

Culebra, Culebra Island, Puerto Rico (B,L,D)

Culebra is widely known for its white-sand beaches and active reef and is one of the major islands in Puerto Rico's archipelago. This island offers plenty for nature lovers, giving you peace and tranquillity in a truly pristine destination. There are more than 20 cays bustling with diverse marine life, making it an absolute paradise for underwater adventurers and casual beachgoers alike.

Opportunity to spend the day swimming off the yacht and enjoying our marina toys.
Day 8

Sat, 06 Jan

San Juan, Puerto Rico (B)

Your time aboard your Emerald Cruises luxury yacht comes to an end in San Juan. After bidding farewell to the crew and your fellow guests, you will be transferred to the airport for your return flight home.

Please book your flight to depart out of San Juan after 12:00 PM.

The itinerary is a guide only and may be amended for operational reasons. As such Emerald Cruises cannot guarantee the cruise will operated unaltered from the itinerary states above.