Eastern Caribbean with St. Barths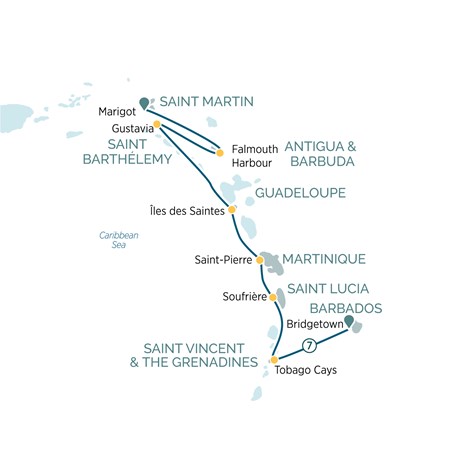 | | |
| --- | --- |
| Tour Name: | Eastern Caribbean with St. Barths |
| Tour Code: | E02J |
| Days: | 8 |
Day 1

Sat, 02 Dec

Bridgetown, Barbados (D)

Your luxurious yacht cruise begins in Bridgetown, where you'll be transferred to your Emerald Cruises luxury yacht and embark on your discovery of St. Barth and the Eastern Caribbean.

Please book your flight to arrive into Bridgetown prior to 03:00 PM.
Day 2

Sun, 03 Dec

Tobago Cays, Saint Vincent and the Grenadines (B,L,D)

The Tobago Cays are an archipelago located in the southern Grenadines, famous for five small uninhabited islands: Petit Rameau, Petit Bateau, Baradal, Petit Tobac and Jamesby. The main attraction here is the Tobago Cays Marine Park, a national park and wildlife reserve. Renowned for its massive 1,400-acre lagoon, the park is surrounded by the vivid horseshoe-shaped reef. This is an idyllic area to enjoy sand-bottomed and crystal-clear waters teeming with colourful fish and turtles.

Opportunity to spend the day swimming off the yacht and enjoying our marina toys.
Day 3

Mon, 04 Dec

Soufrière, Saint Lucia (B,L,D)

Soufrière was the original capital of Saint Lucia and is one of the island's most memorable spots. The town has kept the spirit of the French colonialists who first settled there but were later followed by the British. Soufrière is situated in the Qualibou Depression, the crater of a dormant volcano, so one can enjoy hot springs and geothermal fields, as well as botanical gardens and waterfalls all in the same area.

Included Excursion
The essence of Saint Lucia

EmeraldACTIVE
Stairways to the Pitons

DiscoverMORE
Tree to Bar Chocolate Experience (extra expense)

DiscoverMORE
Bird sanctuary, hiking trail and farm visit (extra expense)
Day 4

Tue, 05 Dec

Martinique (B,L,D)

Home to around 5,000 people, the village of Saint-Pierre was once almost wiped off the map in less than two minutes during an eruption of the Mount Pelée volcano in 1902. In more recent years, Saint-Pierre (also known as 'Little Paris') has been named as the 101st 'City of Art and History'. A visit to Saint-Pierre will allow you to discover a few remnants of Martinique's colonial history: the old theatre, the ruins of the island's fort and the dungeon of Cyparis, as well as the wonderful site it is today, facing a gorgeous bay and leaning in the foothills of Mount Pelée.

DiscoverMORE
The best of Martinique (extra expense)
Day 5

Wed, 06 Dec

Îles des Saintes, Guadeloupe (B,L,D)

A visit to Terre-de-Haut is like taking a trip to the South of France – with the addition of just a few more palm trees and white-sand beaches. Situated off the beaten path, Les Saintes' eight peaceful tropical islands are part of a volcanic archipelago fully encircled by shallow reefs. The history and culture of the Îles des Saintes are to be discovered in Fort Napoléon, where one can also get to know the local flora and fauna at the botanical gardens. Don't miss the chance to try the island's signature dish, le tourment d'amour, a small tart with coconut jam and covered in sponge cake.

Included Excursion
A whirlwind of colours

DiscoverMORE
Blue escape kayaking (extra expense)

DiscoverMORE
Snorkelling tour (extra expense)
Day 6

Thu, 07 Dec

Gustavia, Saint Barthélemy (B,L,D)

Named for Sweden's King Gustav III, Gustavia is the charming capital and main seaport of the island of Saint Barthélemy, also known as St. Barth. It is often considered to be one of the most beautiful islands in the Caribbean and a tropical paradise with French flair. You will enjoy the beauty of its large idyllic beaches, plus the charm and refinement of its old wooden houses.

DiscoverMORE
Snorkelling in St. Barth (extra expense)

DiscoverMORE
Discover St. Barth (extra expense)
Day 7

Fri, 08 Dec

Falmouth Bay, Antigua and Barbuda (B,L,D)

The tropical haven of Antigua offers hundreds of beaches to choose from – but this island is also famous for those in search of active exploration. From the remnants of British rule, such as rich plantations, crumbling mansions and sugar-cane industry ruins, are still visible today, as well as the beautiful Nelson's Dockyard with its restored buildings dating back to 18th century.

EmeraldPLUS
Antigua local Life

DiscoverMORE
Segway Fort Conquerors tour (extra expense)

DiscoverMORE
Antigua Canopy experience (extra expense)
Day 8

Sat, 09 Dec

Marigot, Saint Martin (B)

Your time aboard your Emerald Cruises luxury yacht comes to an end in Saint Martin. After bidding farewell to the crew and your fellow guests, you will be transferred to the airport for your return flight home.

Please book your flight to depart out of Marigot after 12:00 PM.

The itinerary is a guide only and may be amended for operational reasons. As such Emerald Cruises cannot guarantee the cruise will operated unaltered from the itinerary states above.