Gems of the Arabian Peninsula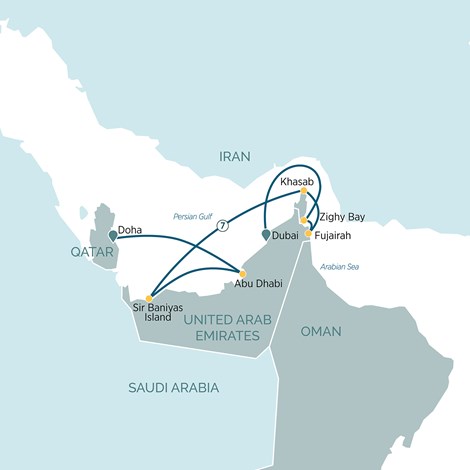 | | |
| --- | --- |
| Tour Name: | Gems of the Arabian Peninsula |
| Tour Code: | E08P |
| Days: | 8 |
Day 1

Tue, 10 Jan

Dubai, United Arab Emirates (D)

Today, you'll embark your luxury superyacht for your unforgettable cruise of the Persian Gulf.
Day 2

Wed, 11 Jan

Dubai, United Arab Emirates (B,L,D)

Once a small fishing village in the Arabian Gulf, today Dubai is one of the most multicultural cities in the world, with ultramodern architecture and a lively nightlife. On today's tour, discover Dubai's vibrant culture, heartfelt hospitality, rich culinary legacy and proud traditions.

Included Excursion
Guided tour of Dubai's historical city centre

EmeraldPLUS
Emirati culture and traditions
Day 3

Thu, 12 Jan

Zighy Bay, Oman (B,L,D)

Located in Oman's authentic Musandam Peninsula, where craggy mountains dive into lively bright green waters, Zighy Bay is a natural playground.
Day 4

Fri, 13 Jan

Fujairah, United Arab Emirates (B,L,D)

The only Emirati capital city on the UAE's east coast, Fujairah has a turbulent modern history. On today's included tour, you will see Fujairah Fort, one of the oldest castles in the country which has previously served as both a defensive building and home of the ruling family. In addition, visit a famous and colourful market as well as the oldest mosque in the Emirates.

Included Excursion
Treasures of the East coast tour
Day 5

Sat, 14 Jan

Khasab, Oman (B,L,D)

Built by the Portuguese, Khasab is the capital of the Musandam Governate. It is nicknamed the 'Norway of Arabia' for its dramatic bare mountains, cliffs that rise above the crystal blue waters and fjords which cut through the landscapes in remarkable style.
Spend the day relaxing on the beach today.

Included Excursion
Musandam Fjords Dhow Cruise
Day 6

Sun, 15 Jan

Sir Baniyas Island, Abu Dhabi, United Arab Emirates (B,L,D)

Located 170 km southwest of the capital of the United Arab Emirates, Sir Baniyas Island holds strong historic significance as well as being a protected wildlife sanctuary.

Enjoy a relaxing day on the beach in this natural and cultural landmark of the UAE, one of seven desert islands situated in the Al Dhafrah region.

Included Excursion
Beach break

DiscoverMORE
Island Nature Reserve Safari Truck Drive (extra expense)
Day 7

Mon, 16 Jan

Abu Dhabi, United Arab Emirates (B,L,D)

Abu Dhabi is the political capital and second-most populated city of the United Arab Emirates. Thanks to its geographically diverse scenery, rich culture and heritage, it has a lot to offer.

Visit the impressive and breathtaking Sheikh Zayed Grand Mosque, incorporating architectural styles from different Muslim civilisations and celebrating cultural diversity. The next stop on your included tour is the Louvre Abu Dhabi Museum. Designed by Jean Nouvel, this iconic gallery aims to depict the evolution of mankind through art.

Included Excursion
Guided tour of the Louvre Abu Dhabi Museum & Sheikh Zayed Grand Mosque
Day 8

Tue, 17 Jan

Doha, Qatar (B)

Your unforgettable luxury yacht cruise comes to an end in city of Doha in Qatar, where you'll disembark for your transfer to the airport.

The itinerary is a guide only and may be amended for operational reasons. As such Emerald Cruises cannot guarantee the cruise will operate unaltered from the itinerary stated above. Please refer to our terms and conditions for further information.