Luxury Mekong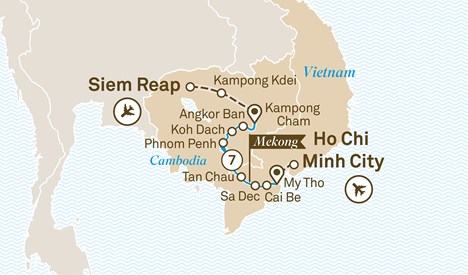 | | |
| --- | --- |
| Tour Name: | Luxury Mekong |
| Tour Code: | VIST |
| Days: | 8 |
Day 1

Tue, 12 Dec

Ho Chi Minh City > Mekong Cruise (L,D)

Welcome to Vietnam and step foot into a world of luxury starting with your air-conditioned airport transfer en-route to the Caravelle Hotel Saigon, located downtown in the heart of HCMC. Meet your Tour Director at 09:00am to run through an overview of your upcoming trip and drop off your luggage and passport. Until 12:30 time is your own before heading to a local restaurant for lunch with your group of eager travellers ready to explore the mysteries of the Mekong River.

A coach will transfer you to My Tho where the breathtaking Scenic Spirit awaits. Start with a cocktail reception hosted by your Cruise Director. Take a stroll around the decks to orientate yourself as to where all the amenities are. After your welcome dinner, settle into your private suite. At any time, your dedicated personal butler is available to assist with a nightcap and delivery of your preferred pillows. A calm 4-hour sail brings you to halt off Cai Be where the ship will anchor overnight.

Please book your flight to arrive into Ho Chi Minh City prior to 08:00 AM.
Day 2

Wed, 13 Dec

Cai Be > Sa Dec (B,L,D)

Enjoy a full gourmet champagne breakfast before heading out on your chosen Scenic Freechoice excursion.

Freechoice: Choose to board a sampan, gliding through a floating market and soaking in the local life on your way to visit Cai Be before stopping at local cottage industries and a French colonial or traditional Vietnamese house.

Your second option is to take a sampan to savour a delicious morning tea at the Le Longanier, a French colonial house restaurant, where staff will welcome you with tea, coffee and a range of local fruit and snacks for your tasting. You can dive into a local experience with a band playing music and performing traditional Vietnamese songs.

Or, if you are enjoying the comforts of the luxurious Scenic Spirit, our highly skilled bar team is ready to welcome you for a hands-on cocktail/mocktail making class featuring fresh local ingredients. Create delicious favourites from the Scenic Spirit menu.


After your morning activity, head back to the ship for lunch whilst sailing to Sa Dec. You may wish to unwind in the Scenic Spirit library to learn more about each port you will visit and the exciting activities ahead. Or head to the heart of this ship, the Scenic Spirit Lounge, which is a great place to unwind with a glass of wine and meet other guests.

Later, upon arrival in Sa Dec, re-board your sampan to explore and interact with the sellers in the lively wet market where you will see live fishes, frogs and even snakes. This 2-hour exploration lets you dive deep into the local lifestyle. You can also see the home of Mr. Huynh Thuy Le (currently under restoration) who inspired marguerite Duras novel L'Amant a story of tragic love told by your entertaining local expert.

After returning to the ship, you will have time to take an evening dip in the pool overlooking the Mekong as the sun sets. The ship will set sail after your arrival back on board for the 6-hour journey to Tan Chau. After dinner, retire in your suite for a restful cruise up the Mekong River.
Day 3

Thu, 14 Dec

Tan Chau – Border Crossing (B,L,D)

You may wish to start your day with some exercise in the on board gym, try stretching at the early morning yoga class or relax in the sauna before setting off to a Scenic Freechoice excursion of your choosing in the areas surrounding Tan Chau.

Freechoice: A prime example of leaving the city life behind will be found at Tra Su Bird Sanctuary in Tra Su Forest where you travel by sampan through endless waterways flanked by mangroves and lush greenery. This eco reserve spans 850 hectares and is known as an ecological haven for fauna and flora, with more than 100 species of water birds known to reside here.

If you would like to experience the community side of Vietnam, look no further than Evergreen Island for a morning of discovery about the local farmers. Back in Tan Chau, experience a ride in a Xe Loi. This commonly used form of transportation in rural Vietnam will take you to the recently renovated Cao Dai temple. The religion of Cao Dai is a syncretic, monotheistic religion established in southern Vietnam in the city of Tây Ninh in 1926. Here, you will learn more about the mix of ideas that form the basis of this fascinating religion.

Your third Scenic Freechoice excursion to choose from is boarding a speedboat to visit Chau Doc, a major city in the Mekong Delta. Upon arrival, continue on board a coach to visit Tay An temple, which is a mixture of Indian and Islamic style architecture located at the foot of Sam Mountain. Then board another sampan to visit Vinh Te canal and view life along the riverfront of Chau Doc, stop at a family-operated fish farm and then return to the Scenic Spirit.


After lunch upon your arrival back on board, enjoy sailing to the Vietnamese and Cambodian border. Some down time is a great way to relax and what better way to do that than heading to the Wellness Centre or Beauty Salon for a bit of pampering. Whilst the ship clears immigration into Cambodia at the border, you will experience a fantastically themed dinner on board Scenic Spirit along with a lion dance performed by locals on the expansive Sun Deck. Settle in for an overnight sail towards Phnom Penh, bidding farewell to Vietnam
Day 4

Fri, 15 Dec

Phnom Penh (B,L,D)

Welcome to Cambodia, arriving into the capital of Phnom Penh early this morning. Soak in Cambodia's rich history; from the food, the people, and the remarkable temples that have stood for thousands of years. After breakfast, it will be time to head into Phnom Penh.

Freechoice: Your Scenic Freechoice excursions provide the option to journey to the Killing Fields and tour Tuol Sleng Prison. These locations are a sobering reminder of the terrors unleashed by the Khmer Rouge regime. Although not a delightful tour, visiting these monuments unlocks the keys to understanding the development of this country. You will then return to Scenic Spirit for lunch.

The second Scenic Freechoice excursion today is a hands-on cooking class. Take a trip to the local market with a local chef to purchase your ingredients. Head back to the kitchen to cook your own lunch, testing out the styles and flavours of the Cambodian cuisine.

The third option is to travel by remork, a local style of tuk tuk, to view the French architecture and history of Phnom Penh. Finish this tour with a stop at the uniquely designed Central Market for some shopping.


The remainder of the afternoon is at your leisure.

Enrich
Later this evening revel in our Phnom Penh by City Lights tour, giving you an insight to the nightlife of the capital before stopping at a distillery for an exclusive tour and tasting behind closed doors.
Day 5

Sat, 16 Dec

Phnom Penh > Oudong (B,L,D)

Board your coach for the short drive to the former capital of Cambodia, Oudong. Witness the life of the monks and nuns who reside at the monastery and if you are lucky, you may be able to join in one of the many festivals and customs often held here. Experience the opulent side of Phnom Penh this afternoon at the Royal Palace with the famous Silver Pagoda, during your included visit to this must-see attraction. This evening, you may wish to dress up for the Scenic Sunset Drinks cocktail reception on the Sun Deck against the backdrop of Phnom Penh's lights. Enjoy the passing scenery and panoramic views as the ships sets sail towards Oknha Tey, commonly known as Silk Island.

Sunset Drinks
Cocktail reception on the sundeck.
Day 6

Sun, 17 Dec

Silk Island > Angkor Ban (B,L,D)

This morning we explore the island of Oknha Tey, dedicated to the art of silk weaving. Travel by tuk tuk to the farm and learn about the process of silk production. Return to Scenic Spirit for lunch and some free time. You may wish to socialise by the pool with a refreshing cocktail and swim.

Next port after lunch is Angkor Ban. Explore its historical rural wooden houses, which survived the Khmer Rouge and visit a school that teaches English to the local students after their regular school lessons. Back on board, continue sailing to Kampong Cham. Immerse yourself in local culture with our team by learning how to make and wear the Cambodian scarf.
Day 7

Mon, 18 Dec

Wat Hanchey > Kampong Cham (B,L,D)

Meet the novice monks at Wat Hanchey, an ancient hilltop pagoda and monastery. Walk (or drive) to the top and soak in some of the best elevated views of the cruise.


Enrich
Receive a blessing from a monk and learn how to pray in a Buddhist pagoda before partaking in a ceremony, which contributes to the daily meal of the resident monks.


Freechoice: Back in Kampong Cham, your Scenic Freechoice excursions this afternoon provides the chance to learn about the history and industries of the area. First option is to learn about the local folklore with stops at Phnom Pros (Man Hill and Wat Nokor). Phnom Pros was part of a traditional local legend but more recently was used as a Killing Field during the Khmer Rouge era. The temple now features a Buddha garden and is home to a local troop of monkeys. Wat Nokor Bachey is a unique architectural experiment blending an Angkorian era temple with a new temple built inside it. This enriching experience can be completed in under 2 hours leaving the rest of the day to either explore independently or enjoy the luxurious facilities located on Scenic Spirit.

Alternatively explore Kampong Cham's history and industry with a drive through past shop houses, remnants of the French colonial era and the large Central Market. Visit a local rubber plantation established by the French, followed by a tour to view the processing of the raw rubber at a rubber factory before stopping at a village known for growing betel nut, a popular item in Cambodian culture.

Cambodia is known for its villages so your third option is to visit Kho Penh Village. Only accessible by local remork and located on Pen (Bamboo) Island, across the bamboo bridge / ferry from Kampong Cham, this remote village gives a good insight into the simple rural lifestyle of farmers in Cambodia.


Back on board Scenic Spirit, enjoy some time to relax and overlook the gorgeous sunset of the Cambodian skyline before your engaging farewell dinner with the crew.
Day 8

Tue, 19 Dec

Mekong Cruise > Siem Reap (B)

Today we journey to Siem Reap via stops at Kampong Tom and the Angkorian bridge in Kampong Kdei. It is time to bid farewell to your fellow guests and Scenic team as you prepare to depart Cambodia for your homeland or extended travels. Transfer to the airport and leave with a full camera and stunning memories to treasure.

Please book your flight to depart out of Siem Reap after 06:00 PM.

This itinerary is a guide only and may be amended for operational reasons such as high and low water. Disruptions to cruising and alteration to itinerary arrangements may occur.