Natural Wonders of Japan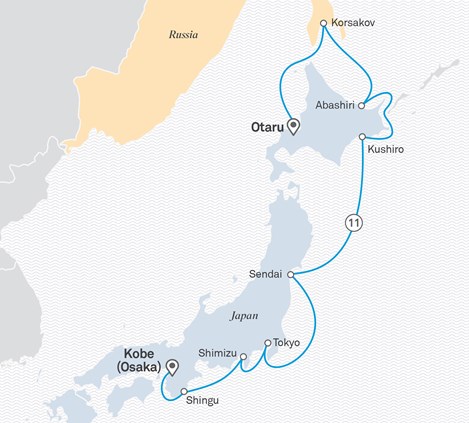 | | |
| --- | --- |
| Tour Name: | Natural Wonders of Japan |
| Tour Code: | 201A |
| Days: | 12 |
Day 1

Sun, 02 Jul

Kobe (Osaka), Japan (D)

Welcome to the bustling Osaka. Transfer to Scenic Eclipse where your journey into wonder begins with a warm greeting by the crew as you step on board. Raise your glass this evening and toast the start of your luxurious cruise.
Day 2

Mon, 03 Jul

Shingu (B,L,D)

Crisscrossed with fast-flowing rivers and mountain trails, Shingu is a small seaside city located in Wakayama's sacred south. Nestling inside verdant mountains, this secret place is a treasure trove of lush greenery and a unique religious culture. Shingu is home to many UNESCO World Heritage sites, including one of the three Kumano Sanzan Shrines connected by the network of Kumano Kodo pilgrimage routes, prominently standing out on the riverbanks with its bold red colouring and sweeping roofs.

Freechoice: Explore the shrines of Shingu, before the Doro-kyo Gorge, or discover the Sacred Land of Kumano and the Nachi Falls.
Day 3

Tue, 04 Jul

Shimizu (B,L,D)

Take your breakfast on your verandah or at the many outdoor dining venues this morning as you sail into Shimizu. You will soon see why it is considered one of Japan's most beautiful ports, with Mount Fuji dominating the horizon, and history dating back to the Nara Period (710-784). Shimzu is blessed with stunning natural scenery such as the Shiraito Falls flowing in thin white streams from the foothills of Mount Fuji, and rich Japanese culture and history reflected throughout the bright red buildings and gold accents.

Freechoice: Open Shizuoka's treasure box with this excursion to Fujisan Hongu Sengen-taisha Shrine, Shiraito Falls, and Mihono Matsubara, or discover the culture of Shimizu at the Tokaido Hiroshige Art Museum. Alternatively, visit the Fuji Five Lake region, at the hot springs st Qwakudani Geothermal Area followed by a cruise on Lake Ashinoko.
Day 4

Wed, 05 Jul

Tokyo (B,L,D)

Welcome to the city that captivates. With some neighbourhoods shining bright with neon lights and filled with futuristic architecture, others boasting glowing lanterns and traditional wooden buildings, and dozens of art galleries and cocktail bars hidden amidst concrete blocks, no two experiences in Tokyo are the same. Previously a small castle town, and now the world's most populous metropolis, this capital city is always on the move and buzzing with energy. With Scenic Eclipse docked overnight, experience the best of Tokyo by both day and night.

Freechoice: Visit teamLab Borderless, a world of artworks without boundaries, or walk through the fantastic collection of folk architecture. Learn about the Edo Period at the Architectural Museum. Choose to explore the picturesque Shinjuku-Gyoen Gardens, or visit the Imperial Shinto Meiji Shrine before walking across the busiest pedestrian crossing in the world. Alternatively, see one of the most colourful temples, Sensji Temple.

Enrich
Experience the Japanese culture with a Saki Drum ceremony, before an exclusive performance.
Day 5

Thu, 06 Jul

Tokyo (B,L,D)

Continue exploring Tokyo.
Day 6

Fri, 07 Jul

Sendai (B,L,D)

Known as the green city by the sea, this tree lined regional city was founded in the 1600s by Date Masamune. One of Japan's most powerful feudal lords, his pure black regaliais rumoured to be the inspiration behind Darth Vader's armour. Immerse yourself into the samurai history, displayed through the traditional black and gold architectural treasurers and well-preserved historical sites.

Freechoice: Cruise on the Matsushima Bay, and walk to the Zuiganji Temple, or visit the Nobiru Museum before exploring Ishinomaki. Choose to relax at the Sakunami Onsen, or admire the Naruko Gorge and Chusonji Temple.
Day 7

Sat, 08 Jul

At Sea (B,L,D)

Relaxation beckons, and with so many choices on board you will be surprised how quickly time passes on board. Choose one of the daily activities, join an entertaining discussion in the theatre or relax in the Senses Spa as you sail to Hokkaido, Japan's northernmost island, with cities nestled between mountains, and unspoilt primeval forests.
Day 8

Sun, 09 Jul

Kushiro (B,L,D)

Welcome to Kushiro, home to Japan's largest marshland, Kushiro Shitsugen, and some of the most pristine wildlife habitats in the country. Keep an eye out for the rare, graceful, and auspicious red-crowned crane. The most populous city in eastern Hokkaido was previously an industrial port, and came to life thanks to its harbour and its status as the gateway to the National Parks close by.

Discovery: Explore the National Park with your Discovery Team.
Day 9

Mon, 10 Jul

At sea (B,L,D)

Enjoy a relaxed day at sea on board Scenic Eclipse. There is ample time to rejuvenate. Why not choose a class in one of the fitness spaces or try one of the therapy lounges in Senses Spa.
Day 10

Tue, 11 Jul

Abashiri (B,L,D)

Abashiri has rolling hills and fields filled with flowers of every hue, although being located on one of the most northerly parts of Japan with very cold winters led to it being used as a penal colony in the days of old.

Freechoice: Tour the Abashiri Prison Museum and learn of the historical background of the buildings and ancient prison relics, or choose to visit Hokkaido Museum of Northern Peoples and see galleries dedicated to indigenous cultures, including the Ainu indigenous group.
Day 11

Wed, 12 Jul

Korsakov, Russia (B,L,D)

Located on the southern tip of Sakhalin Island with a tumultuous history , Korsakov is now a picture of tranquillity. Explore the fascinating town, with Russian and Japanese structures mixed in with modern buildings and museums.
Day 12

Thu, 13 Jul

Otaru (B)

Welcome to Otaru. Disembark from Scenic Eclipse after breakfast as you farewell the crew and take away memories of a truly unforgettable cruise.

The itinerary is a guide only and may be amended for operational reasons. As such Scenic cannot guarantee the tour will operate unaltered from the itinerary stated above. Please refer to our terms and conditions for further information.