Baja California & Sea of Cortez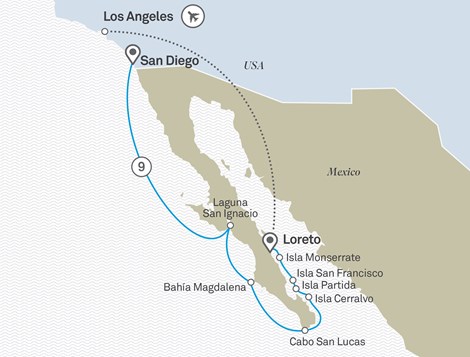 | | |
| --- | --- |
| Tour Name: | Baja California & Sea of Cortez |
| Tour Code: | 601C |
| Days: | 10 |
Day 1

Mon, 24 Apr

Los Angeles, USA > Loreto, Mexico (D)

Your journey into wonder begins as you fly from Los Angeles to Loreto, where the crew of Scenic Eclipse will warmly greet you as you step on board.
Day 2

Tue, 25 Apr

Exploring the Sea of Cortez (B,L,D)

The Sea of Cortez, or the Gulf of California, is a legendary body of water embraced by Baja California and Mexico mainland. One of the most biologically diverse marine environments in the world framed with clear, quiet water, lagoons and wetlands, ecological and marine reserves and desert landscapes. Almost a thousand resident and migratory fish swim these waters, with one in ten fish found only in these waters. There are also a wide range of marine mammals that visit, including fin, humpback, sperm and grey whales. Positioned between two shifting tectonic plates, this remains an area of great interest for global research. Isla Monserrate is an uninhabited island covered in greenery. An exclusion zone for fishing at the north of the island makes it the perfect place for snorkelling excursions. Enjoy the calm, placid ocean and keep your eye out for whales passing by.

Discovery: Partake in daily Scenic Discovery excursions. Cruise on the Zodiacs watching for wildlife, kayak and stand-up paddleboard along the calm turquoise waters, or walk through biological reserves.
Day 3

Wed, 26 Apr

Exploring the Sea of Cortez (B,L,D)

Continue your voyage in the Sea of Cortez. Feel the warm winds flowing in from the desert Isla San Francisco. Explore the island's salt flats, and kayak and stand-up paddleboard in the clear, turquoise waters.
Day 4

Thu, 27 Apr

Exploring the Sea of Cortez (B,L,D)

Continue cruising the 'aquarium of the world' . Boasting white sand, turquoise waters and a rustic back drop, Isla Partida was voted as the home of the most beautiful beach in Mexico. You may even get the chance to snorkel with a nearby sea lion colony
Day 5

Fri, 28 Apr

Exploring the Sea of Cortez (B,L,D)

Renamed in 2009 to 'Isla Jacques Cousteau' in honour of the French oceanographer who led several underwater expeditions here, Isla Cerralvo is known for its wide range of exotic fish and incredibly clear ocean waters. Stroll along the coastline admiring the views of the Baja mountain ranges, and swim in the warm, calm waters.
Day 6

Sat, 29 Apr

Cabo San Lucas (B,L,D)

White beaches, arching stone cliffs and wildlife rich waters, Cabo San Lucas is located on the tip of Baja California and is the perfect combination of great weather and spectacular scenery. Once a hideout for pirates, Cabo San Lucas is known for its great beaches, unlimited shopping options, restaurants and cantinas.

Freechoice: Enjoy sailing on a catamaran and snorkel in the beautiful Chileno Bay, or go horse riding along the beach. Choose to visit the picturesque San Jose del or shop for ingredients at a local market, before preparing traditional Mexican dishes during this cooking experience.
Day 7

Sun, 30 Apr

Bahía Magdalena (B,L,D)

Bahía Magdalena is a small port city, with waters rich in fish, marshes and swamps. Every winter, grey whales travel here to give birth and raise their calves in the protected, calm lagoons.

Discovery: Cruise by Zodiacs in search of whales, or go kayaking and stand-up paddleboarding in the calm lagoons.
Day 8

Mon, 01 May

Laguna San Ignacio (B,L,D)

Laguna San Ignacio is an inlet of warm, sparkling, jade-green waters that attracts many kinds of wildlife seeking a warm home for the winter. Dolphins, sea birds and whales routinely congregate in this oasis. With more date palms than residents, San Ignacio is a contrast to the desert scrub and cacti of Baja.

Discovery: Go kayaking and stand-up paddleboarding along the sparkling, jade-green waters, or search for wildlife with our on board Discovery Team.
Day 9

Tue, 02 May

At Sea (B,L,D)

Enjoy a relaxed day at sea on board Scenic Eclipse. There is ample time to rejuvenate and a plethora of venues to explore. Choose a class in one of the fitness spaces or relax in one of the therapy lounges in the Senses Spa.
Day 10

Wed, 03 May

San Diego, CA (B)

Your cruise ends this morning as you bid farewell to the crew and disembark after breakfast, taking away memories of a truly unforgettable experience.

The itinerary is a guide only and may be amended for operational reasons. As such Scenic cannot guarantee the cruise will operate unaltered from the itinerary stated above. Please refer to our terms and conditions for further information.