Central American Discovery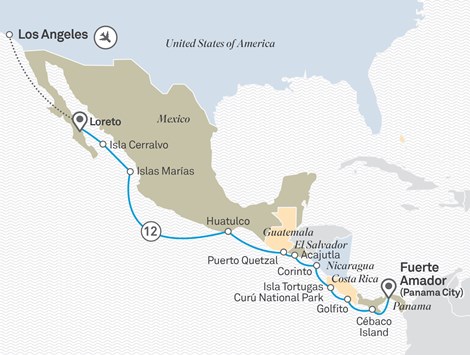 | | |
| --- | --- |
| Tour Name: | Central American Discovery |
| Tour Code: | 401C |
| Days: | 13 |
Day 1

Tue, 04 Apr

Panama City (D)

Fly into Panama City, Central America most cosmopolitan city, and board Scenic Eclipse to begin the journey of a lifetime in 6-star luxury.
Day 2

Wed, 05 Apr

Cébaco Island (B,L,D)

Located in the Gulf of Montijo, brilliantly sandy beaches, breath-taking coastline and turquoise waters are on offer in Cébaco. This untouched island is Panama's third largest island and offers no commercial transportation, meaning it can only be reached by private charter. Cébaco's secluded nature has allowed a myriad of sea life, sea turtles and humpback whales to flourish.

Discovery: Join a kayaking excursion with our Discovery Team, looking for unexplored caves, or explore the islands hiking trails. Alternatively, cruise on Zodiacs admiring the coastline, keeping your eyes out for wildlife.
Day 3

Thu, 06 Apr

Golfito, Costa Rica (B,L,D)

The most southern port in Costa Rica has a long and complicated history, forced to recover after the United Fruit company moved south to Ecuador taking the banana trade with them. Located on the sheltered El Golfito Inlet, Golfito has tropical rainforest vegetation similar to that of the Caribbean coast.

Freechoice: Explore the National Wildlife Refuge of Golfito, or discover one of the most intense rainforest landscapes in the world at Casa Orquideas. Alternatively. learn about the biology and behaviour of the surrounding wildlife on a catamaran.
Day 4

Fri, 07 Apr

Curú National Park > Isla Tortugas (B,L,D)

Located on the Nicoya Peninsula, Curú Wildlife Refuge is inhabited by an abundance of wildlife and nature in a protected environment. Offering some of the best eco-tourism experiences in Costa Rica, the refuge covers 1,496 hectares of tropical forests, mangrove swamps and a stretch of white sandy beach. This afternoon, cruise towards the tropical paradise of Isla Tortugas. This remote and pristine beachside community boasts clear waters and sun-kissed shores.
Day 5

Sat, 08 Apr

Corinto, Nicaragua (B,L,D)

Known for its untouched beaches and tropical surroundings, Corinto is a coastal town on the Pacific coast of Nicaragua. Be charmed by the colonial churches, quaint shops and towering landscapes. This untouched city is home to volcanoes, lakes, and lush rainforest, and perfect for any nature lover.

Freechoice: Explore the colonial city of León, or learn the history of rum in the America's before a tasting.

Discovery: Join a guided hike to the still-active Cerro Negro volcano.
Day 6

Sun, 09 Apr

Acajutla, El Salvador (B,L,D)

A stone's throw away from San Salvador, the Pacific coast port of Acajutla offers quiet beaches and pristine waters. The stunning beach of Los Cabanos attracts visitors looking to soak up the sun and relax on the sandy shores.

Freechoice: Visit what is known as the most important natural remnant of the country, El Imposible National Park, or discover the fascinating Mayan civilisation at the archaeological site of San Andrés. Alternatively, learn the history of the region, including where some of the best coffee in the world is grown, or choose to have a unique gastronomic experience visiting a cocoa hacienda.
Day 7

Mon, 10 Apr

Puerto Quetzal, Guatemala (B,L,D)

Named after Guatemala's national bird, Puerto Quetzal offers the opportunity to explore the untouched countryside of Guatemala. Puerto Quetzal is the gateway UNESCO-listed colonial capital of Antigua located 1500m above sea level and famed for Spanish colonial buildings, including the baroque La Merced church.

Freechoice: Drive into the mountains to beautiful old Antigua, once the country's colonial capital, and discover its lovely bougainvillea-draped buildings and breathtaking views of emerald volcanoes, or travel to the famed Lake Atitlan and enjoy time in a small community where the Mayan culture remains. Alternatively, enjoy a guided tasting of Guatemala's best rums.
Day 8

Tue, 11 Apr

Huatulco, Mexico (B,L,D)

Uncover one of Mexico's best kept secrets, the town of Huatulco. Get a glimpse into the rich heritage of the south-eastern region of Oaxaca with 16 different indigenous groups calling this land home. Each group possesses its own distinct foods, culture, and customs. Spot an abundance of wildlife at Huatulco National Park, where around 300 bird species, and 87 types of amphibian and reptile flourish in this unique ecosystem.

Freechoice: Explore the city of Huatulco, or choose to visit a nearby coffee plantation and learn of the history. Alternatively, enjoy a ride through tranquil mangroves scanning for crocodiles.
Day 9

Wed, 12 Apr

At Sea (B,L,D)

Relax and enjoy the amazing facilities of your floating resort, take a dip in the Scandinavian inspired plunge pools or sooth your muscles and mind in the relaxation lounge.
Day 10

Thu, 13 Apr

At Sea (B,L,D)

Relax on board and make use of the Senses Spa or take a yoga class in the studio. There will be insightful lectures and presentations from the Discovery Team in the theatre. You can also choose to learn some new cooking techniques in Scenic Epicure.
Day 11

Fri, 14 Apr

Islas Marías (B,L,D)

Situated off the Nayarit Coast, Marias Islands are made up of Islas María Madre, María Magdalena, María Cleofas and San Juanito. Uncover the history of the islands, known for the Penitentiary Colony engaged in nature conservation efforts, including agriculture, animal husbandry, forest harvesting and fishing.
Day 12

Sat, 15 Apr

Isla Cerralvo (B,L,D)

Isla Cerralvo also known as Jacques Cousteau Island is surrounded by an abundance of marine life. Swordfish grippers and marlin flourish in these waters making it a prime location for big game fishing. Relax and take in the idyllic atmosphere of azure waters, picturesque sunsets, and some of Mexico's best snorkelling spots.

Discovery: Go kayaking and stand-up paddleboarding along the azure waters, or search for wildlife on Zodiacs with our on board Discovery Team.
Day 13

Sun, 16 Apr

Loreto > Los Angeles, USA (B)

Loreto signals the end of your cruise as you disembark after breakfast taking away memories of your adventures. Board your included flight back Los Angeles.

The itinerary is a guide only and may be amended for operational reasons. As such Scenic cannot guarantee the tour will operate unaltered from the itinerary stated above. Please refer to our terms and conditions for further information.