Latin America Delights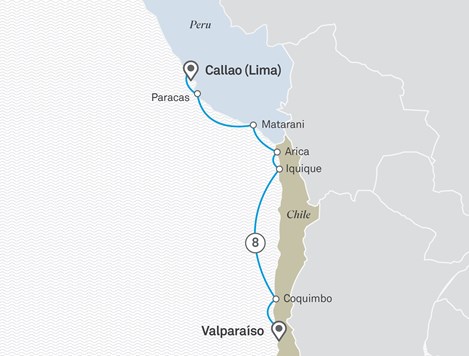 | | |
| --- | --- |
| Tour Name: | Latin America Delights |
| Tour Code: | 101L |
| Days: | 9 |
Day 1

Sun, 19 Mar

Valparaíso (D)

The World Heritage-listed city of Valparaíso welcomes with its long and colourful history dating back to the conquistadors. This vibrant city is rich in theatre, music, performance and street art and exquisite Victorian architecture. You'll find every colour from the rainbow in this vibrant city's streets, staircases, alleyways and buildings.
Day 2

Mon, 20 Mar

Coquimbo (B,L,D)

Coquimbo is the gateway to La Serena, once known for its fine jewellery and ceramics and home to the pre-Columbian Diaguita and El Molle cultures. Today you can explore unique wineries at Elqui Valley, archaeological museums and sun kissed beaches. Some of the region's most beautiful architecture from both the colonial and neo-colonial can be found at central Plaza de Armas and La Recova.
Day 3

Tue, 21 Mar

At Sea (B,L,D)

Acquaint yourself with the exceptional range of facilities on board your ultra-luxurious Discovery Yacht. Join a class in one of the fitness spaces or relax in one of the many therapy lounges in the Spa Sanctuary. Tempt your palate at one of the outstanding dining venues on board or delight in the excellent selection of fine wines created by a Master of Wine.
Day 4

Wed, 22 Mar

Iquique (B,L,D)

Iquique is a coastal city in northern Chile, to the west of the Atacama Desert and home to UNESCO World Heritage landmarks such as Humberstone and Santa Laura Saltpeter Works, once used for creating fertilisers and fireworks. Take a stroll through Baquedano Street towards the centre of town and soak in its Texas-esque vibe. The street's faded wooden buildings with window shutters and grand doors will have you expecting to see a cowboy pushing through a saloon door at any moment.
Day 5

Thu, 23 Mar

Arica (B,L,D)

Chile's northernmost city is home to the world's driest desert, the Atacama. The Atacama is stark, barren, and filled with rocky outcrops. A visit to the dramatic landscape of the desert is a spellbinding experience. This doesn't distract from Arica's world-famous surfing beaches, delicious seafood and national parks located close to port. Morro de Arica is the perfect location to take in great views of the city and Pacific Ocean, and learn about the War of the Pacific that took place on Morro de Arica in 1880.
Day 6

Fri, 24 Mar

Matarani (B,L,D)

Located on the southern coast of Peru, Matarani provides access to some of Peru's best attractions such as the historical centre of Arequipa, a UNESCO World Heritage Site. Discover why Arequipa is often called 'Ciudad Blanca' (White City) as this charming town showcases the finest of Mestizo Baroque architecture. Matarani is situated close to attractions such as Lake Titicaca, Cuzco and Machu Picchu for those willing to explore more. Delve into the regions natural beauty as kayaking and mountainous terrain provide plenty of exploration opportunities for the adventurous.
Day 7

Sat, 25 Mar

At Sea (B,L,D)

Continue to relax on board today. Tempt your palate at one of the many included dining experiences or take in the sea views from your luxurious suite's verandah.
Day 8

Sun, 26 Mar

Paracas (B,L,D)

Paracas is a town on Peru's west coast. It's known for its idyllic beaches, rich heritage and an abundance of wildlife, so much so that Paracas Peninsula has been declared a national reserve spanning desert, ocean and islands. This town is a launch point for the uninhabited Ballestas Islands, home to sea lions, pelicans and Humboldt penguins. Paracas is also the gateway to the Nazca lines, geoglyphs dating between 500 BCE and 500 CE, whose origins have been a mystery for over 80 years.
Day 9

Mon, 27 Mar

Callao (Lima) (B)

Your cruise ends this morning in Callao as you farewell your crew. Disembark after breakfast and transfer to Lima Airport for your flight homeward

The itinerary is a guide only and may be amended for operational reasons. As such Scenic cannot guarantee the tour will operate unaltered from the itinerary stated above. Please refer to our terms and conditions for further information.