Sea of Cortez in Depth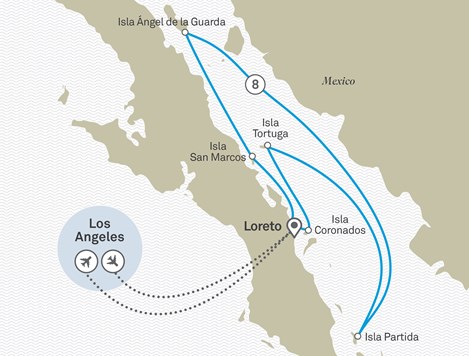 | | |
| --- | --- |
| Tour Name: | Sea of Cortez in Depth |
| Tour Code: | 501C |
| Days: | 9 |
Day 1

Sun, 16 Apr

Los Angeles, USA > Loreto, Mexico (D)

Your journey into wonder begins as you fly from Los Angeles to Loreto, where the crew of Scenic Eclipse will warmly greet you as you step on board.
Day 2

Mon, 17 Apr

Exploring the Sea of Cortez (B,L,D)

The Sea of Cortez, or the Gulf of California, is a legendary body of water embraced by Baja California and Mexico mainland. One of the most biologically diverse marine environments in the world framed with clear, quiet water, lagoons and wetlands, ecological and marine reserves and desert landscapes. Almost a thousand resident and migratory fish swim these waters, with one in every ten fish species being found only in this region. There are also a wide range of marine mammals that visit, including the fin, humpback, sperm and gray whales. Positioned between two shifting tectonic plates, this is an area of great interest to scientists and researchers. With 244 islands, a host of choices are open for your voyage, with your destination activities being dependant on wildlife and weather conditions. Your experienced Captain and Discovery Team Leaders will design your voyage day to day, making the most of this unique region. One of the places that we may visit is Isla Ángel de la Guarda, one of the largest islands in the Sea of Cortez that is an uninhabited biological reserve. The calm waters that surround this dry, mountainous island offer the perfect opportunity to kayak and stand-up paddleboard. With white sand, turquoise waters and a rustic back drop, Isla Partida was voted as home to the most beautiful beach in Mexico. We may even get the chance to snorkel with a nearby sea lion colony. Isla Coronados offers shallow lagoons with outstanding visibility, that are perfect for exploring the sea bottom. You could also wander around the island to spot local animals and plants.

Discovery: Partake in daily Scenic Discovery excursions. Cruise on the Zodiacs watching for wildlife, kayak and stand-up paddleboard along the calm turquoise waters, or walk through biological reserves.
Day 3

Tue, 18 Apr

Exploring the Sea of Cortez (B,L,D)
Day 4

Wed, 19 Apr

Exploring the Sea of Cortez (B,L,D)
Day 5

Thu, 20 Apr

Exploring the Sea of Cortez (B,L,D)
Day 6

Fri, 21 Apr

Exploring the Sea of Cortez (B,L,D)
Day 7

Sat, 22 Apr

Exploring the Sea of Cortez (B,L,D)
Day 8

Sun, 23 Apr

Exploring the Sea of Cortez (B,L,D)
Day 9

Mon, 24 Apr

Loreto > Los Angeles, USA (B)

Your cruise ends this morning as you farewell the crew. Disembark after breakfast to fly to Los Angeles, taking away memories of a truly unforgettable experience.

The itinerary is a guide only and may be amended for operational reasons. As such Scenic cannot guarantee the tour will operate unaltered from the itinerary stated above. Please refer to our terms and conditions for further information.