Majestic Mekong River Cruise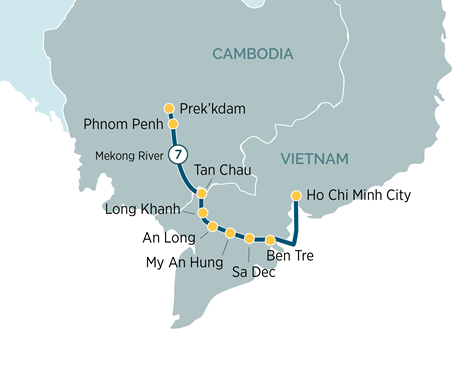 | | |
| --- | --- |
| Tour Name: | Majestic Mekong River Cruise |
| Tour Code: | EWVC |
| Days: | 8 |
Day 1

Sat, 15 Oct

Arrival Phnom Penh (D)

Sous Sdei and welcome to Cambodia. You will be met at Phnom Penh airport and transferred to the Palace Gate Hotel in Phnom Penh. This afternoon, transfer to your Emerald Cruises award-winning Star-Ship Emerald Harmony in Prek K'dam.

Be welcomed by your captain and crew. Later, set sail whilst you enjoy your first dinner on board with your fellow travellers.

Please book your flight to arrive into Phnom Penh prior to 03:00 PM.
Day 2

Sun, 16 Oct

Oudong - Phnom Penh (B,L,D)

Start your day with a visit to the Oudong Monastery and Temples. Located north of Phnom Penh, Oudong was the former royal capital of Cambodia up until it moved to Phnom Penh in 1866. Important remnants on the temple sight include the burial sites of Khmer kings as well as religious artefacts dating back more than a hundred years. Receive a traditional Buddhist blessing from the temple's resident monks as part of EmeraldPLUS.

Spend the afternoon as you please, exploring with DiscoverMORE options or simply relaxing on board Emerald Harmony as you sail to Phnom Penh, Cambodia's capital. The city known as the "Pearl of Asia", was almost entirely evacuated by the Khmer Rouge in 1975.

After dinner, enjoy a Phnom Penh by City Lights remork (tuk tuk) tour.

EmeraldPLUS
Phnom Penh by night on a remork (Tuk-Tuk) tour

EmeraldPLUS
A traditional Buddhist Monk blessing

Included Excursion
A visit to Oudong Temples

DiscoverMORE
A silk farm tour at Koh Oknha Tei (extra expense)

DiscoverMORE
A visit to the silversmith village of Kho Chen (extra expense)

DiscoverMORE
Enjoy a craft beer adventure by remork in Phnom Penh (extra expense)
Day 3

Mon, 17 Oct

Phnom Penh - Vietnam / Cambodia Border (B,L,D)

This morning, you will learn more about the Khmer Rouge and the darkest days of the country's history. A short drive will take you to the Killing Fields at Choeung Ek. Here you will have the opportunity to walk through the fields, visit the small museum and learn about this sad historic chapter. Then you will visit the Tuol Sleng Genocide Museum (also known as S-21). This is a former school that was converted to the main prison and torture headquarters of the Khmer Rouge.

Back on board Emerald Harmony, enjoy a Cambodian Street Fair lunch, before visiting the majestic Royal Palace with its French-inspired gardens, followed by a shopping stop at the central market located in the heart of the city.

This evening, enjoy a cultural performance by the Cambodian Student and Children's Organisation, before setting sail to the border where you will anchor for the night. Tonight enjoy a Cambodian-style family dinner.

EmeraldPLUS
A cultural performance by the Cambodian Student and Children's Organisation

Included Excursion
A visit to the Killing Fields & Toul Sleng Genocide Museum

Included Excursion
A visit to the Royal Palace and central market
Day 4

Tue, 18 Oct

Vietnam / Cambodia Border Crossing – Tan Chau – Long Khanh Island (B,L,D)

This morning, cross the border into Vietnam and continue sailing to Tan Chau.

In Tan Chau, as part of EmeraldPLUS, visit the recently renovated Cao Dai temple. The religion of Cao Dai is a syncretic, monotheistic religion established in southern Vietnam in the city of Tây Ninh in 1926. Here, you will learn more about the mix of ideas that form the basis of this fascinating religion. After a Xe Loi ride, embark one of our sampans to Evergreen Island for a walk through a local village to get a glimpse into the lives of the local farming community. Stop at a local fish farm enroute back to the ship.

This afternoon, sail to Long Khanh Island, known for its scarf weaving and visit the Hoa Hao Buddhist pagoda. After anchoring for the night near An long, you'll be delighted by a traditional Lion Dance performance on board.

EmeraldPLUS
A visit to Cao Dai temple, a religion unique to the Mekong Delta

EmeraldPLUS
A Lion Dance performance on board

Included Excursion
A visit to Evergreen Island and Tan Chau

Included Excursion
A visit to a local scarf-weaving workshop and Hoa Hao Buddhist Pagoda on Long Khanh Island
Day 5

Wed, 19 Oct

An Long - My An Hung (B,L,D)

Relax on board this morning or join our DiscoverMORE tour of Tràm Chim National Park, home to Tam Nong Ramsar Bird Sanctuary. Covering a total area of 7,313 hectares, Tram Chim National Park, located in Tam Nong, is currently one of Vietnam's eight most important bird sanctuaries. With a system of swamps, grass plots and natural canals, the park is an ideal habitat for 191 species of plants, 150 species of freshwater fish, and nearly 231 species of water birds. Some of these are listed in Vietnam's Red Book of rare and threatened species.

This afternoon, enjoy a visit to My An Hung village as part of our EmeraldPLUS programme. Recognised as a cultural and historical destination, this small village in rural Vietnam specialises in red-hot chilli and peppers. Enjoy some local folk singing during the visit, wander through coconut farms, meet the locals and learn about life in the village.

Tonight, enjoy a Vietnamese family-style dinner as you sail to Sa Dec.

DiscoverMORE
Tràm Chim National Park with Tam Nong Ramsar Bird Sanctuary (extra expense)
Day 6

Thu, 20 Oct

Sa Dec - Cai Be (B,L,D)

Visit Sa Dec on a walking tour, with stops at the Chinese Congregational House in Kien An Cung, the home of Mr. Huynh Thuy Le, who inspired Marguerite Duras' novel L'Amant, and enjoy a walk through the central market to peruse its varied produce.

Return to Emerald Harmony by sampan and, after lunch on board, you'll arrive in Cai Be. Travelling via sampan, visit a coconut candy workshop and learn how coconut candy and other local sweets are made, then visit a local French colonial heritage villa.

Continue sailing to My Tho this evening.

Included Excursion
A visit to the Chinese Congregational House and the home of Mr. Huynh Thuy Le
Day 7

Fri, 21 Oct

My Tho - Ho Chi Minh City (B,L,D)

Sit back, relax and take in a full day of sailing the magnificent Mekong River and canals. Watch as life in the Mekong Delta, known as the "rice bowl" of Vietnam awakens for another day as the ship departs early this morning to begin transiting the Cho Gao canal. This is the perfect opportunity to enjoy the ever-changing vista's from the pool, to enjoy a treatment in the Wellness Area (additional expense), or to read a book and chat with new friends. Cruise past mangroves, narrow canals, fish farms, busy cargo barges and local fishing boats alike.

Tonight, dock in the heart of Ho Chi Minh City with views of the city lights.
Day 8

Sat, 22 Oct

Ho Chi Minh City Disembarkation (B)

Bid farewell to your Emerald Star-Ship after breakfast this morning and be transferred to the HCMC airport to catch your onward or homebound flight.

This itinerary is a guide only and may be amended for operational reasons such as high and low water. As such, the cruise may operate altered from that stated above. Please refer to our terms and conditions.