Danube Explorer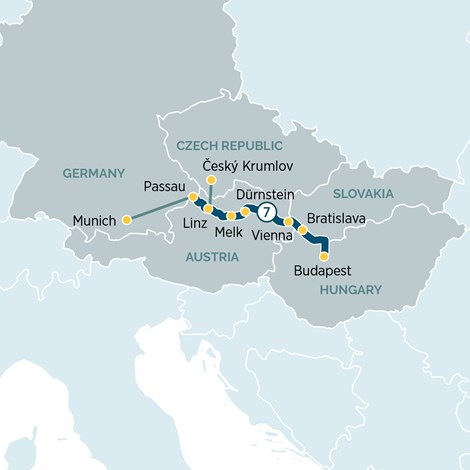 | | |
| --- | --- |
| Tour Name: | Danube Explorer |
| Tour Code: | EWPA |
| Days: | 8 |
Day 1

Sun, 09 Oct

Munich – Passau (D)

Upon your arrival in Munich, you will be greeted by one of our Emerald Cruises representatives and transferred to your contemporary Star-Ship, where a warm welcome awaits you from the captain and crew. This evening, join your fellow guests for dinner on board.
Day 2

Mon, 10 Oct

Passau (B,L,D)

Today will be a memorable part of your river cruise along the mighty Danube, as Passau's atmosphere effortlessly reflects the work that was undertaken in the city by Italian architects, who brought a little piece of Venice with them to Germany.

Enjoy a sightseeing tour of the city, including the ornate exterior of St. Stephen's Cathedral, perfectly mirroring the beautifully restored interior, and the Altes Rathaus, or Town Hall, which comprises of an ensemble of eight historic patrician houses. Alternatively, set off on a hike around Passau, catching sights of the Mariahilf, a place of pilgrimage, and St. Severin, an ancient church that can be dated back to the Ottonian dynasty.

EmeraldACTIVE
A hike to Veste Oberhaus

Included Excursion
A guided tour of Passau

DiscoverMORE
Bavaria Live (extra expense)
Day 3

Tue, 11 Oct

Linz – Ceský Krumlov (B,D)

Today, you will visit the UNESCO World Heritage-listed town of Ceský Krumlov. This quaint town has one of the best-preserved ancient centres in Europe, with more than three hundred protected medieval buildings and an iconic castle complex. Enjoy a guided tour of the area, including the 15th-century St. Vitus' Church and a series of delightful High Gothic façades, each taking you back to the heart of the Middle Ages.

EmeraldPLUS
A guided tour of Ceský Krumlov
Day 4

Wed, 12 Oct

Melk – Dürnstein (B,L,D)

Relax as we cruise down the Danube River early this morning, passing beautiful terraced vineyards that produce some of the world's best wine and delightful apricot orchards before arriving in Melk.

On your included tour today, walk the halls of the magnificent Benedictine abbey of Melk, gazing upon ornate gold leaf walls. After your tour, enjoy sailing through the idyllic Wachau Valley. When you arrive in charming Dürnstein, you will have the opportunity to hike to Dürnstein Castle. Alternatively, stay in Melk to cycle from Melk to Dürnstein, traversing a route that offers a different perspective on the region's viticulture.

EmeraldACTIVE
A guided bike ride along the Danube

EmeraldACTIVE
A guided hike to Dürnstein Castle

Included Excursion
A tour of Melk Abbey

DiscoverMORE
Visit to Schallaburg castle (extra expense)

DiscoverMORE
Vineyards hike & tasting in Weissenkirchen (extra expense)
Day 5

Thu, 13 Oct

Vienna (B,L,D)

Discover the classical charms of Vienna today, as we take you through the heart of the city, pointing out all of the best cafés and artisan studios as you discover its imperial grandeur. The UNESCO World Heritage-listed historic centre was once a fortified Roman frontier city, and a drive around the Ringstrasse will introduce you to architecture from across the last millennia.

Alternatively, enjoy a bike tour along the serene trails on the Danube Island.

EmeraldACTIVE
A bike tour in Vienna

Included Excursion
A guided tour of Vienna

DiscoverMORE
Tastes of Vienna (extra expense)

DiscoverMORE
Viennese evening concert (extra expense)
Day 6

Fri, 14 Oct

Bratislava (B,L,D)

Cobbled streets pave the course for daily life in Bratislava, where winding alleys and gothic architecture blend together to create a truly distinctive Slovakian capital.

Enjoy a guided hike to Bratislava Castle, with a silhouette that looks as though it was pulled from the pages of a fairytale. This striking landmark was most recently rebuilt in a Renaissance style, but it still retains some of its original features.

Alternatively, explore the historic architecture in the compact town centre during an included guided tour, where everything is in walking distance, including the ornate exterior of the Slovak National Theatre.

EmeraldPLUS
Local Slovakian entertainment on board

EmeraldACTIVE
A guided hike to Bratislava Castle

Included Excursion
A walking tour of Bratislava
Day 7

Sat, 15 Oct

Budapest (B,L,D)

Welcome to Budapest, where an amazing end to a fantastic trip through the heart of Europe awaits. Once the ancient Roman city of Aquincum, a true historic marvel, with bathhouses and homes with heated floors thanks to the surrounding hot springs. The UNESCO World Heritage-listed centre will enable you to follow the chapters of architecture through the ages as you set off on a coach tour of Budapest, passing Romanesque, Baroque and Classical façades.

This evening, enjoy a traditional Hungarian folklore show on board.

EmeraldPLUS
A traditional Hungarian folklore show

EmeraldACTIVE
A hike to Buda Hill

Included Excursion
A guided coach tour of Budapest

DiscoverMORE
Excursion to Szentendre (extra expense)

DiscoverMORE
Jewish Heritage Tour (extra expense)
Day 8

Sun, 16 Oct

Budapest (B)

After breakfast, it is time to say farewell to your fellow guests and disembark the ship for your transfer to the airport, taking memories of apricot orchards and ancient Roman cities with you.

This itinerary is a guide only and may be amended for operational reasons such as high and low water. As such, the cruise may operate altered from that stated above. Please refer to our terms and conditions for further information.