Peru to Panama: Along the Andean Coast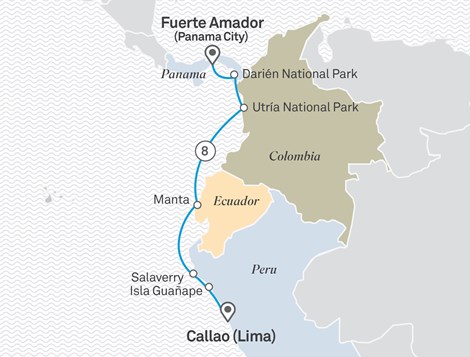 | | |
| --- | --- |
| Tour Name: | Peru to Panama: Along the Andean Coast |
| Tour Code: | 301C |
| Days: | 9 |
Day 1

Mon, 27 Mar

Callao (Lima), Peru (D)

Welcome to Lima, Peru where your journey into wonder begins with a warm greeting by the crew as you step on board Scenic Eclipse. Raise your glass this evening and toast the start of your luxurious cruise.
Day 2

Tue, 28 Mar

Isla Guañape (B,L,D)

Lying off the Pacific Ocean coast of Peru, this chain of four islands is a wildlife refuge protected by Peru's National Reserve System of Guano Islands, Isles and Capes. Isla Guañape was once harvested for the rich fertilising properties of guano found here. You'll get the chance to witness the abundant native wildlife including inquisitive southern sea lions, mischievous Humboldt penguins, Guanay cormorant and blue-footed boobies.
Day 3

Wed, 29 Mar

Salaverry (B,L,D)

Salaverry is the gateway to the cultural capital of Peru, and picturesque Trujillo, and home to colonial mansions and magical ruins. Explore ancient cultures at the incredible ruins and archaeological treasures of the Mochicas and Chimu civilisations. UNESCO World Heritage Site Chan is the largest earthen city of pre-Columbian America, one of the finest examples of mud cities in the world. The 16th century Spanish conquerors bestowed the city with a colonial charm, bedecked with old churches and picturesque courtyards.

Freechoice: Discover the sacred adobe temples, the Pyramid of the Sun and Moon or explore the amazing World Heritage-listed site of Chan Chan.

Enrich
Be amazed with the grace and elegance of the Peruvian Paso horse in a charming display of these beautiful and authentic animals.
Day 4

Thu, 30 Mar

At Sea (B,L,D)

A day at sea. Today, take the time to indulge yourself in the ship's many 6-star amenities.
Day 5

Fri, 31 Mar

Manta, Ecuador (B,L,D)

Located on Ecuador's central Pacific coast, Manta offers beautiful seascapes, fascinating history and culture. Once a trading hub between the Incas and the Mayas, it is now famous for the export of Panama hats and tuna fishing.

Freechoice: Choose to experience a rainforest walk in the Pacoche rainforest, or visit a fisherman village and a famous Panama hat factory. Alternatively, learn how cacao beans are grown and cultivated and the chocolate making process during a plantation tour.
Day 6

Sat, 01 Apr

At Sea (B,L,D)

Enjoy a day of relaxation and rejuvenation on board your Discovery Yacht. Take a cooking or tasting class in Scenic Epicure, or revitalise your body and mind with a yoga or Pilates class. Take your palate on a journey of discovery at the extensive range of dining venues or have your butler serve you in-suite.
Day 7

Sun, 02 Apr

Utría National Park, Colombia (B,L,D)

Located off the coast of Colombia, this tiny World Heritage-listed atoll has been transformed from a former island prison to a wildlife sanctuary. Onshore you will discover monkeys, caimans, a myriad of bird species including the blue-footed booby, the magnificent frigate birds and the endemic blue anole, the world's only pure blue lizard. The deep blue waters and coral reefs around the island host an abundance of marine life, from inquisitive dolphins and porpoises to the majestic sperm whales. Today, choose one of our Scenic Freechoice activities or join a more active Scenic Discovery excursion.

Freechoice: Choose to experience a mangrove swamp on walkways that wind through this fragile ecosystem or visit Playa Blanca and take the opportunity to explore one of the white beaches of the Colombian Pacific coast at your leisure.

Discovery: Kayak the calm waters of Utría and witness the great wealth of bird and other animal life in this rich habitat.
Day 8

Mon, 03 Apr

Darién National Park, Panama (B,L,D)

Uncover World Heritage-listed Darién National Park one of the most important heritage sites in central America. A natural bridge spanning the two Americas, it houses a myriad of habitats, ranging from rocky coastlines to sandy beaches and mangroves. A plethora of wildlife awaits as even endangered species of Night Monkey, Spotted Paca and Guatemalan Black Howler call these tropical forests home. Darien National Park remains one of the few examples of protected areas co-inhabited by humans in the world. Journey into the lives of the Embera Indian Tribe and learn of their traditions and lifestyle during this cultural encounter.

Discovery: Kayak or stand up paddleboard along the coast of the Darién Jungle.
Day 9

Tue, 04 Apr

Panama City (B)

Your cruise ends this morning as disembark and fly home, taking away memories of a truly unforgettable cruise.

The itinerary is a guide only and may be amended for operational reasons. As such Scenic cannot guarantee the cruise will operate unaltered from the itinerary stated above. Please refer to our terms and conditions for further information.