Baja and Costa Rica Discovery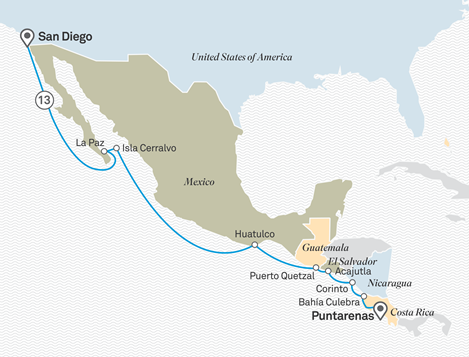 | | |
| --- | --- |
| Tour Name: | Baja and Costa Rica Discovery |
| Tour Code: | 101C |
| Days: | 14 |
Day 1

Wed, 28 Sep

San Diego, CA (D)

Welcome to San Diego, known for its beaches, magnificent coastline and bustling city lifestyle. The world of wonder awaits as you step on board Scenic Eclipse and raise your glass to toast the start of your luxurious cruise.
Day 2

Thu, 29 Sep

At Sea (B,L,D)

With so many choices on board you will be surprised how quickly time passes on board. Choose one of the daily activities, join an entertaining discussion in the theatre, or make time for your own fitness regime.
Day 3

Fri, 30 Sep

At Sea (B,L,D)

Enjoy your time on board at leisure. Try a game of bridge or canasta in the Observatory Lounge or take some time out to relax in the Senses Spa.
Day 4

Sat, 01 Oct

La Paz (B,L,D)

The capital of Baja California Sur, La Paz is known for its old-world charm and laid-back atmosphere. Stroll along the seafront promenade and sample the culinary delights of Plaza Constitución, home to delicious restaurants and picturesque bars. Today, choose one of our Scenic Freechoice activities.

Freechoice: Head towards San Rafaelito Island for the chance to snorkel with a small colony of Californian sea lions, or spend the day exploring this charming town.
Day 5

Sun, 02 Oct

Isla Cerralvo (B,L,D)

Isla Cerralvo, also known as Jacques Cousteau Island, is surrounded by an abundance of marine life. Swordfish grippers and marlin flourish in these waters making it a prime location for big game fishing. Relax and take in the idyllic atmosphere of azure waters, picturesque sunsets and some of Mexico's best diving spots. It's no wonder Isla Cerralvo is known as "the world's aquarium" for its rich marine life.

Discovery: Go kayaking and stand-up paddleboarding along the azure waters, or search for wildlife on Zodiacs with our on board Discovery Team.
Day 6

Mon, 03 Oct

At Sea (B,L,D)

Enjoy a relaxed day at sea on board Scenic Eclipse. There is ample time to rejuvenate and a plethora of venues to explore. Choose a class in one of the fitness spaces or relax in one of the therapy lounges in the Senses Spa.
Day 7

Tue, 04 Oct

At Sea (B,L,D)

Spend the day at leisure exploring the various amenities of your luxurious Discovery Yacht.
Day 8

Wed, 05 Oct

Huatulco, Oaxaca (B,L,D)

Uncover one of Mexico's best kept secrets, Huatulco. Get a glimpse into the rich heritage of the south-eastern region of Oaxaca with 16 different indigenous groups calling this land home, and each with their own distinct foods, culture and customs. Spot an abundance of wildlife at Huatulco National Park where around 300 bird species, 87 types of amphibian and reptile flourish in this unique ecosystem. Sit back and relax on the stunning shores of Bahía de Cacaluta, considered a tropical oasis for its pristine sand and turquoise waters. Today, choose one of our Scenic Freechoice activities or join a more active Scenic Discovery excursion.

Freechoice: Enjoy a scenic drive on your way to Paradise Gardens, and eco-agricultural project designed to maintain and preserve the gifts of nature. Alternatively, float down the Copalita River experiencing the heart and soul of Huatulco.

Discovery: Hike the Sicaruu Trail with a local guide for a chance to see a great variety of local flora and fauna.
Day 9

Thu, 06 Oct

At Sea (B,L,D)

Today, take the time to explore the many ultra-luxury on board dining experiences or take in the sea views, drink in hand. The day is yours to unwind at your own pace.
Day 10

Fri, 07 Oct

Puerto Quetzal (B,L,D)

Named after Guatemala's national bird, Puerto Quetzal offers you the opportunity to explore the untouched countryside of the Central American nation. Puerto Quetzal is the gateway UNESCO-listed colonial capital of Antigua, located 1,500m above sea level and famed for its Spanish colonial buildings including the infamous baroque La Merced church.

Freechoice: Drive into the mountains to beautiful old Antigua, once the country's colonial capital, and discover its lovely bougainvillea-draped buildings and breathtaking views of emerald volcanoes. Alternatively visit a nearby coffee plantation before tasting a cup of fine Guatemalan brew.
Day 11

Sat, 08 Oct

Acajutla (B,L,D)

A stone's throw away from San Salvador, the Pacific coastal port of Acajutla offers quiet beaches and pristine waters. The stunning beach of Los Cabanos draws visitors looking to soak up the sun and relax on the shores of paradise.

Freechoice: Explore some colonial towns, learning the history of the region and indigenous customs, or discover the fascinating Mayan civilisation at the archaeological site of San Andrés.
Day 12

Sun, 09 Oct

Corinto (B,L,D)

Known for its untouched beaches and tropical surroundings, Corinto is a coastal town on the Pacific coast of Nicaragua. Be charmed by its colonial churches, quaint stores and towering landscapes. This untouched city is home to volcanoes, lakes and rainforests – a naturalist's paradise. Today, choose one of our Scenic Freechoice activities or join a more active Scenic Discovery excursion.

Freechoice: Explore the colonial city of León, a charming city that has retained its colonial-style streets and has preserved its old architectural style.

Discovery: Join a guided hike to the still-active Cerro Negro volcano.
Day 13

Mon, 10 Oct

Bahia Culebra (Marina Papagayo) (B,L,D)

Famed for its pristine beaches, calm waters and top-rated scuba diving. Admire Costa Rica's vast natural beauty at surrounding national park where iguanas, deer and white-faced monkeys roam. The region is home to 115 species of mammals. Today, choose one of our Scenic Freechoice activities or join a more active Scenic Discovery excursion.

Freechoice: Choose a Costa Rican cultural experience, where you will get a taste of how ancestors used to live in the 19th century.

Discovery: If you like adventure, zip line through the Papagayo Canopy.
Day 14

Tue, 11 Oct

Puntarenas (B)

Your cruise ends this morning in Puntarenas as you farewell your crew. Disembark after breakfast and transfer to San José airport for your flight homeward.

The itinerary is a guide only and may be amended for operational reasons. As such Scenic cannot guarantee the cruise will operate unaltered from the itinerary stated above. Please refer to our terms and conditions for further information.

Helicopter and submarine experiences may not be available at every location. These experiences are at additional cost, subject to regulatory approval, availability, weight restrictions, medical approval and weather and ice conditions.